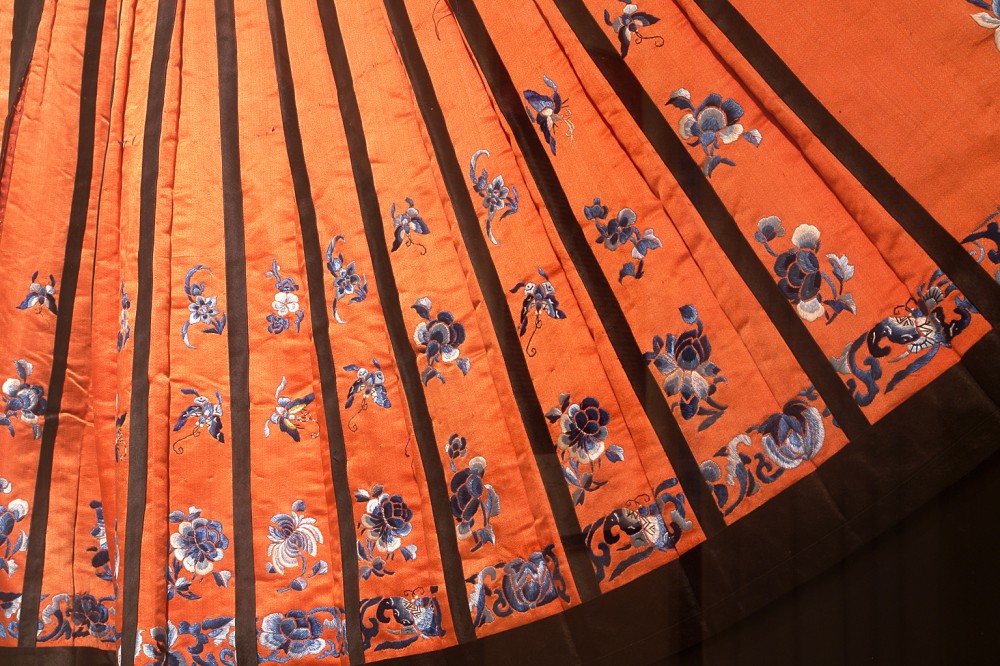 italiano /
The Oriental Art Museum of Trieste – a small museum located right in the heart of the city, in the restored palazzetto Leo, just a short walk from Piazza Unità d'Italia – is a real gem. I was lucky to join a guided tour during its recent open day.

There was a workshop for children, too, only my daughters are teenagers and having spent part of their lives in Hong Kong, they are not really interested in Oriental traditions.
While the children were taken care of by two ladies dressed in cheongsams, the adults walked up to the third floor to start the tour with the Japanese section: from the tragical world of the samurai with their bloodstained weapons to Japanese traditions rites and religions, from masks and musical instruments representing the theater to precious prints among which also the The Great Wave Off Kanagawa. 
The first floor is a glimpse of  China: dresses and textiles of embroidered silk with their colours and simbols, ritual objects, porcellain and earthenware, arts and crafts. Fascinating objects catch my eye such as the compass used to re-balance according to fengshui and the magnificent ivory-carved Chinese puzzle ball – actually a series of concentric balls freely moving one inside the other.
On the ground floor a small collection of sculptures from Gandhara, which has been purchased in 1955 thanks to the participation of a scientist from Trieste in the Italian Karakorum expedition.
Last but not least Trieste and the Orient. The tour ends with an introduction to the "Gabinetto Cinese Wünsch", a very peculiar museum cum shop – a riproduction of which can be seen here – opened on the Corso in 1841 by the Austrian entrepreneur Wünsch in the wake of the growing orientalism in Europe, and considered at the time by the triestini a "real cultural meeting place". There was a pastry shop on the ground floor and a vast collection of "oriental" objects (from Siria to Japan) to be visited upstairs. The price of the entrance ticket would be deducted from possible purchases.
I should mention that everything is explained in English as well.
All photos published are courtesy of the photo library of the Comune di Trieste.
ti potrebbero interessare anche: