italiano /
This is an easy and tasty recipe which I brought with me from Hong Kong. You will find it on the menu card of every Chinese restaurant, but you may cook it as home as well, and in a much healthier way.  The rice is best cooked a day in advance and you may replace Chinese BBQ pork by cooked chicken or any meat leftovers.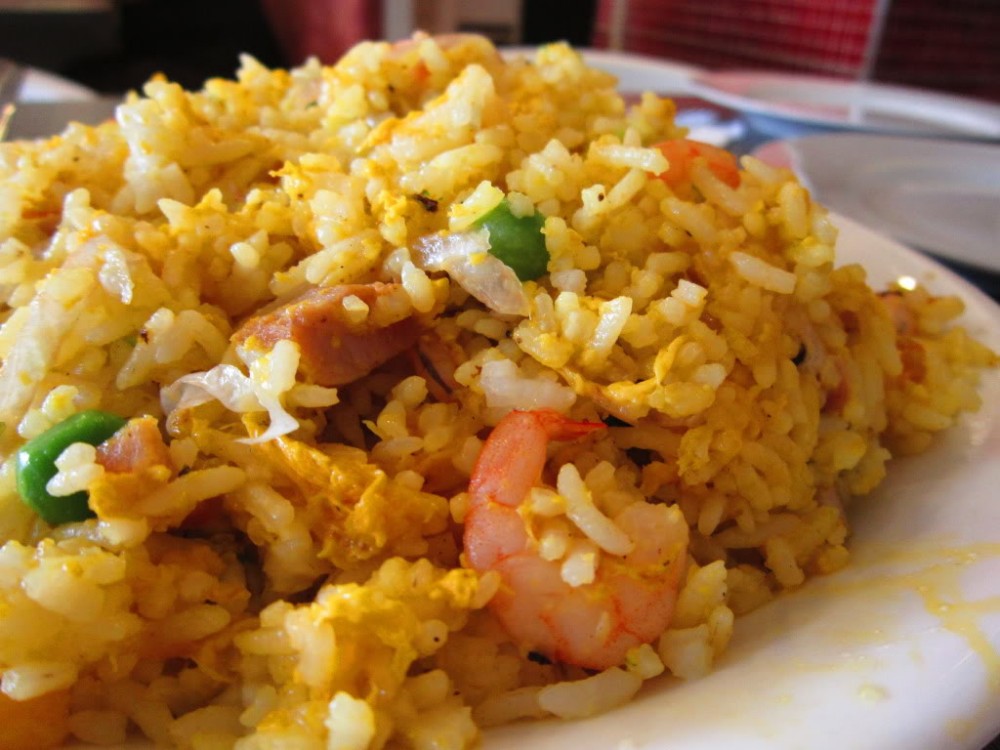 Ingredients:
3 cups cooked, cold rice
1/2 cup shelled and cleaned shrimps (frozen ones are fine as well)
1/2 cup Chinese BBQ pork, alternatively cooked chicken breast, bacon (unsmoked) or any meat leftover, cut into small pieces
1/2 cup boiled green peas
2 eggs, slightly beaten
3 stalks of scallions, chopped
3 tbsp cooking oil
Ingredients A (to marinate the shrimps)
1/4 tsp salt
1/4 tsp sugar
Ingredients B
2 cloves garlic
3 thin slices ginger
Ingredients C (for the sauce)
1/2 tsp salt
1/2 tsp soy sauce
1/2 tsp sugar
some pepper
1-2 tbsp water (depending on softness of rice)
Preparation:
Add ingredients A to shrimps and let marinate for 20 minutes. Heat wok (or big pan) on medium heat and add cooking oil. Fry ingredients B for a few seconds until they impart their aroma, then add shrimps. Stir-fry until shrimps change colour & dish up, leaving oil in wok. Pour in beaten eggs and scramble slightly. Add in rice & ingredients C and stir-fry for a few seconds. Then add meat and green peas. Continue frying for several minutes until rice is aromatic. Add green scallions and turn off heat. Mix well.
Ready to serve.
ti potrebbero interessare anche: