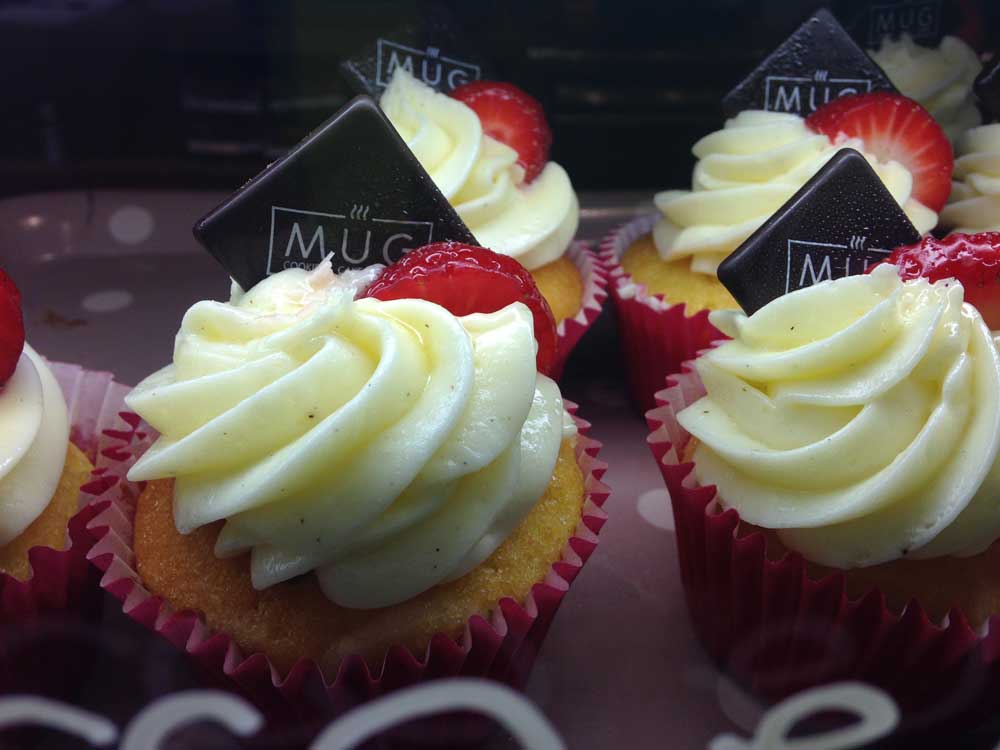 I go to MUG, in Piazza Hortis 6, to spend time with my friends and to enjoy a good cup of coffee. I come with my friend Lucy when we meet to do our conversation sessions; a half hour in Italian and a half hour in english – an even exchange with a side of cake.
I go to MUG to talk about work over a cup of spiced tea.
I go to MUG to treat myself with a nice big slice of cake or a luscious cupcake. These are not the usual Italian treats. MUG's desserts remind me of those you might see in a Disney cartoon; they are colorful, multi-layered and beautifully decorated!
Even today I'm at MUG with my friend Fiorella, an Italian-american who knows something about American cupcakes. Two mugs filled to the brim with hot "american" coffee and a rich red velvet cupcake with cream cheese frosting to aid in our brainstorming session.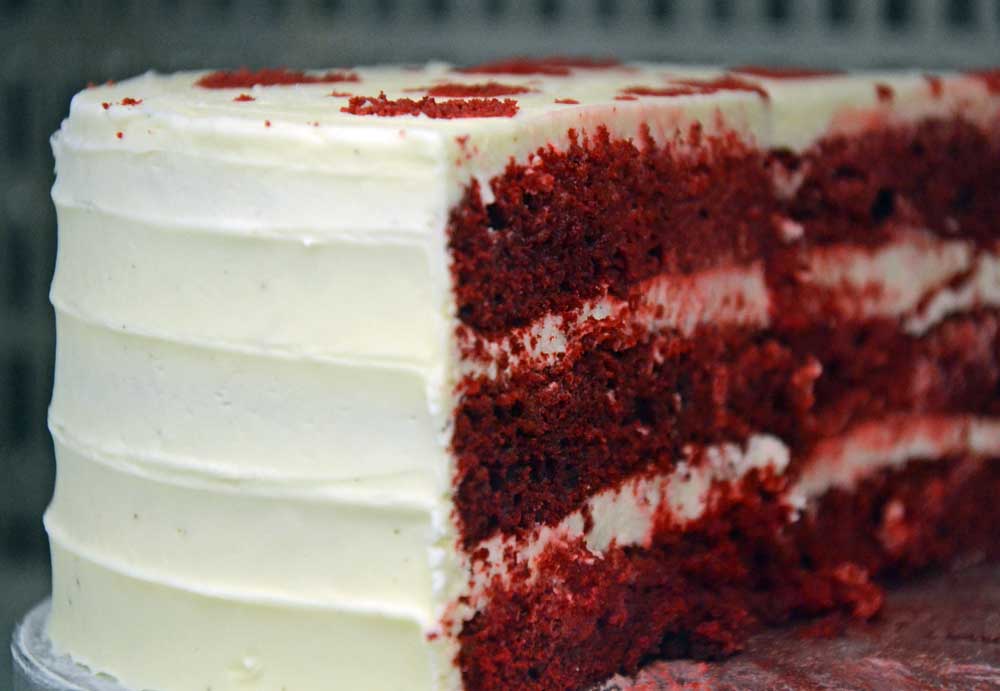 Elena Giuffrida is the driving force behind MUG. She has many years of experience and studied pastry in England and has worked in Trieste's Ginger, Mimi' e Cocotte and MUG is her own new adventure.
The display case at MUG is filled with gorgeous cupcakes of several varieties and beautiful tempting cakes.
The wooden tables and chairs, made by Vud, (a local wood artisan whose shop is in nearby Via Diaz), are quickly filled by students, young mothers and their kids, and office workers on a coffee break.
At the counter, a colleague of Elena photographs the new menu item, juice extracts made with seasonal fruits.
At the back of the coffee shop, behind the roomy couch where two teens are engaged in animated conversation, are cookbooks that are the beginning of an experiment by the local library. The head of the Trieste library system, Mavis Toffoletto, has launched an initiative called "la Bilioteca diffusa" which sees library collections shared in different parts of the city. It is a curious and unique collaboration between the library and business owners.
Time flies at MUG, cups are filled and re-filled, the atmosphere is relaxing, young and casual. As I'm leaving I see on the chalkboard behind the counter that they serve Brunch on Sundays; "English style" with eggs and bacon, "American style" with pancakes.
I imagine my sons would love this place and I think I'll be back next Sunday with the whole family.
MUG
Piazza Hortis, 6 Trieste
040 9660293
info@mugbakery.it
www.mugbakery.com
tue – sat 8.00 to 20.00
sun 10.00 to 18.00
Mo closed
ti potrebbero interessare anche: