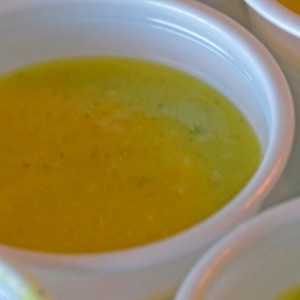 Ingredients for 4 persons:
2 zucchini peeled and cut into cubes
1 cucumber peeled and cut into cubes
1 big onion, cut
2 small cloves of garlic, cut
1 small parsley root, peeled and cut
1 handful of fresh parsley, cut
1 teaspoon of lemon juice
2 tablespoons of yoghurt (3.5% fat)
vegetable broth
salt and pepper
1 pinch of dry lemongrass, if available
1 teaspoon curcuma
some fat (oil or margarine)
Preparation
Stir-fry the onion and the garlic for a few minutes, add the parsley root and stir-fry for additional 5 minutes. Add the zucchini and the cucumber cubes. Cook under low heat for about 20 minutes until the root gets soft. Add the fresh parsley and the vegetable broth. The vegetables should be just covered by the broth. Bring to boil.
Squash with a mini-pimer until you get a smooth creamy soup. Add the lemon juice, the yoghurt, and season to taste with salt and pepper, lemongrass and curcuma. The soup should not be too liquid.
Can be eaten cold or warm and kept in the fridge for a few days.
A perfect summer soup which was among the recipes of the latest International Welcome Club 'lunch bunch'.
ti potrebbero interessare anche: